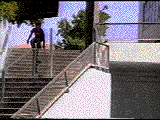 In order to view the movies you need an appropriate movie viewer.
.MOV files require Apple Quicktime Player that can be downloaded here.
To view the mpeg files, Microsoft Media Player can be downloaded here.
vv - Movie Files - vv
These require Quicktime
Rodney Mullen - This movie is almost 15megs! It will take a hour to download over a modem, but it is well worth it! After watching this video, you will question, "Wow, is this guy the best skater in the world??" 3 minutes 35 seconds
Brian Anderson - Stair ledge 50-50
Brian Young - Kickflip to BS 50-50 on small picnic table
Matt - BS Lip slide down a handrail
MW - Nollie up on box to nose manual to nollie heel flip out.
Jamie Thomas - U. C. S. Ollie
West - Hurricane down skate park hand rail.
BH - Half-Cab 5.0 on a box.
Copalman - K-Grind down a big set of stair's hand rail.
Daniel - Makes this gigantic 50-50 to 180 out down a curved hand rail look easy!
Ed Templeton - Smooth FS 50-50 to FS Big spin out.
Elissa Steamer - K-Grind down a hand rail.
JH - Kick flip over a small picnic table.
Malcom - Blindside flip down a ledge.
These movies require a mpeg player
If you like the following clips, download more over at http://www.wiskate.com
Colin McKay - Nollie Ollie Flip down some stairs (Plan B Video)
Mark Gonzales - Kick flips over a rail while the board spins under a above rail that he jumps over. Really cool looking.
Pat Duffy - Double 360 Flip
Rodney Mullen - 540 Flip plus an extra kickflip
Rodney Mullen - Casper slide on a manual pad.
Rodney Mullen - Very smooth casper slide down a picnic table.
Rodney Mullen - Freestyle casper juggle.
Rodney Mullen - Half-Cab to K-Grind down hand rail.
Rodney Mullen - Kick flip under flip.
Rodney Mullen - Nollie 360 varial late flip
Rodney Mullen - Nollie Dark slide transfer on a bench.
Rodney Mullen - Nose Manual to nollie flip out on planter
Rodney Mullen - 4 stair + flat + 4 stair ollie